The last devil to die by Richard Osman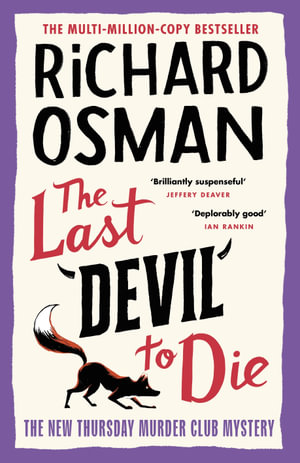 I have read with much enjoyment the first three novels in the Thursday Murder Club series (The Thursday Murder Club, The man who died twice, and The Bullet that missed) so I was thrilled to read The last devil to die, which for me has turned out to be the best in the series. For readers new to the series, it would be best to start with the first book and then continue the series to get to know the characters, setting and events.
In The last devil to die, the members of the Thursday Murder Club are faced with the death of an old friend in the antiques business who has been murdered for a dangerous package. While investigating his death the reader uncovers art fraud and drug dealing, facing danger on the way.
While writing a highly skilled cosy murder mystery with enough twists and turns and intriguing puzzles to solve, Osman's characters are described with empathy and are easily relatable. He introduces a new member to the retirement village, who is undergoing romance fraud and the club undertake to expose the fraudster while trying to solve the murders that keep happening. Osman also tugs on the reader's heartstrings with a compassionate look at dementia and end of life decisions, leaving the reader pondering the complexities of life.
Osman is leaving The Thursday Murder Club to author a novel about a father-in-law/daughter-in-law detective duo, but promises to be back with Joyce, Elizabeth, Ron and Ibraham and I for one, am eagerly looking forward to reading anything that is written by this intelligent and empathetic author.
Themes: Murder, Art fraud, Romance fraud, Dementia.
Pat Pledger