Write your own funny stories by James Campbell and Rob Jones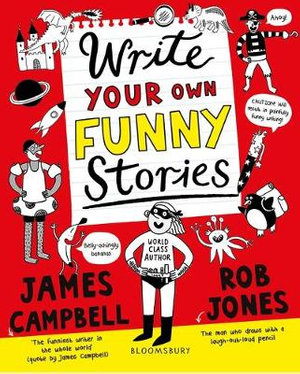 Have you ever wondered how you can write stories that capture the audience's attention and leave them wanting more? Well, if so, this is a must-read story for you! Comedian and author of The Funny Life Of . . . stories, Campbell knows how to entertain the masses with his clever wit and knack of enticing an audience. Write You Own Funny Stories is a highly useful, purposeful and entertaining book that parents, and teachers will be spruiking, and will have kids aspiring to be an author. Either way, both audiences won't be able to put it down due to its highly engaging and entertaining illustrations and writing journey.
Throughout the book, Campbell demystifies the art of funny writing. Jam packed full of awesome tips and tricks to help you create your own great humorous piece, you won't be able to get your pen out quick enough! Introducing characters like the Inspirational Elf and tackling the theme of boredom, Campbell demands that you "show him the funny!" This book includes multiple sections where you become the writer and by the end of the book there is a whole section for your inspirations to flow freely. Each part provokes your thinking as he encourages you to join him in creating something funny, while giving you an abundance of ideas to inspire you. When reading this book, picking up a pen and finding your inner funniness seems easy. Rob Jones' illustrations emulates and captures Campbell's ideas, as he challenges you to be a writer. Budding writers and those struggling for ideas, will easily make connections with Campbell and Jones' suggestions, while seeing their ideas come to fruition. As a reader, you will feel easily inspired to pick up a writing instrument and create your own witty wonders.
This is a very clever novel, that will have both children and adults reading and creating in no time. A MUST have for all those who want to find and release their inner creative, intellect and wit!
Themes: Creativity, Writing, Humour, Imagination.
Michelle O'Connell