Wise quackers by Renee Treml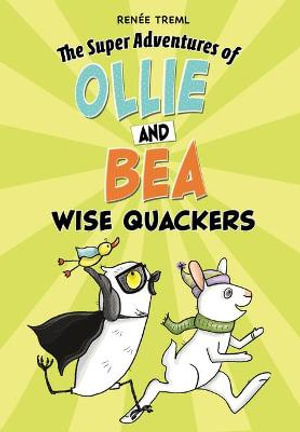 This new installment in the sensational graphic novel series The Super Adventures of Ollie and Bea series (It's Owl Good, Squeals on Wheels, Bats What Friends Are For) is perfect for young, independent readers or for read alouds. It will appeal to fans of the Duck, Duck, Porcupine series by Salina Yoon, the Elephant and Piggie series and Renee Treml's other graphic series, Sherlock Bones. While accessible to a younger audience, its content and format will be equally appealing and relevant to an older age group.
Ollie the owl thinks he is too old to play with stuffed toys...but as soon as Bea ducks off to fetch something Ollie can't help but play Super Duckie with Bea's toy. He gets so into the game that Super Duckie soon ends up stuck in a tree. Ollie manages to keep the secret from Bea with some clever distracting but try as he might he cannot get Duckie out of the tree. When Bea and the rest of the team finally discover the truth Owl expects them to be angry at him. But they understand it is an accident and work together as a team to solve the problem.
Children will love the jokes and world play that come thick and fast ('I'm hoppy to try it', 'let's get quacking') and the story is told exclusively through sharp, fast-paced dialogue. Renee Treml's (Sleep tight, Platypup) full-colour illustrations are crisp, clear and sparse with a superb focus on the changing emotions of Ollie and Bea.
This is such a wonderful series that explores the real problems children have within friendship partnerships and groups. It's a beautifully honest look at those emotions that most kids have but many find it tricky to talk about. It also models wonderfully positive and uplifting ways to be a friend (and the fun of friendships) without glossing over the times when it is hard or uncomfortable.
Themes: Accidents, Honesty, Teamwork, Friendship.
Nicole Nelson