Squeals on wheels by Renee Treml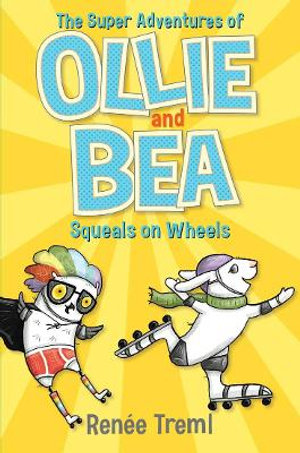 Ollie the owl wants to go skating and tries to encourage a more reticent Bea the bunny to join her. Bea is worried about the size of her feet and feels she will look ridiculous on skates, but Ollie never gives up, offering support and friendship to convince Bea to overcome her worries.
This graphic novel has larger pictures so the amount of text and information on a page makes it easier for younger students to read. There are many fun word plays and jokes throughout the book that students will enjoy.
"Hey Bea. Do you know what the hardest part of skating is?"
"Balance? Coordination?"
"The ground!"
This is a book about friendship and supporting and encouraging someone who needs reassurance to try something new and overcome personal anxieties.
Renee Treml moved from the USA to Australia in 2007 and is the author/illustrator of Wombat Big, Puggle Small, Sleep Tight, Platypup and the creator of another graphic novel series Sherlock Bones. I am pleased to see more Australian made graphic novels for children.
Watch Renee talk about herself and her work here.
This is the second book in the "Ollie and Bea" series and I recommend this book to 6 to 9 year-olds. Teacher's tips are available.
Jane Moore