The King of Koraha by Maria V. Snyder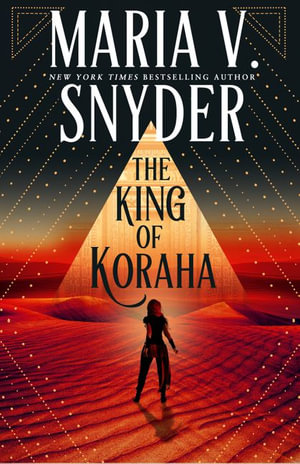 After her adventures in The city of Zirdai, Shyla Sun-Kissed wants to travel the kingdom and see all the wonders in this desert world. However, the King of Koraha has summoned her to his capital, and she must obey. When she meets the King, she and Rendor are given a challenging task – find the person who stole all the tax money out of a vault that is seemingly impossible to break into. She must succeed in this or the whole kingdom is at risk of being hijacked by a mysterious army that wields a weapon that takes over the minds of the people it contacts. Shyla will need every bit of her intelligence, use of the eyes of Tamburah and the help of her loyal friends in the Invisible Sword to overcome this danger.
The King of Koraha is a very satisfying conclusion to this trilogy. Snyder is adept at writing action packed, character driven books that are easy to read with unique plots and wonderful worldbuilding. She expands her world this time, taking Shyla and Rendor across the desert country to another city. The King has magical powers over water but desperately needs the help of Shyla who faces danger and deception in her quest to find who is manipulating the mysterious army that threatens the King. Shyla has developed as a strong character, able to lead The Invisible Sword, and her romance with Rendor has also really developed.
Fans of fantasy will love this series, with all the twists and turns that the books take, the surprise of unexpected traitors and the action-packed rides across the desert and in the strange cities. It was hard to leave Shyla and her Invisible Sword, and I look forward to other books by this talented author.
Themes: Fantasy, Good and evil, Kings, Courage, Deserts.
Pat Pledger