The Boo! Zoo by Rod Campbell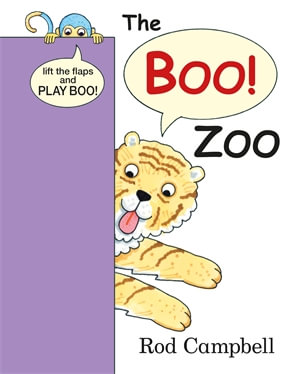 A lift-the-flap book that is sure to really appeal to toddlers, The Boo! Zoo is a colourful, humorous book by Campbell, author of the very popular Dear Zoo. The young child is invited to play Boo! with the animals at the zoo. Each double page spread greets a different Zoo animal, with a 'Hello … I can see you! And … said Boo!' when the flap is lifted. The refrain is one that young children will really enjoy repeating and they will have fun guessing what animal is under the flap, by looking at the small detail that protrudes – a lion's paw, and an elephant's trunk.
The flaps are brightly coloured with a single word labelled on it, and all the animals have such happy expressions on their faces as they say Boo! that readers and listeners will be unable to stop smiling.
This is sure to become a favourite read aloud in a family and is a book that beginning readers might like to try and read to younger siblings. The clear black print, the refrain and the labelling of the animals would all lend to a feeling of success.
The Boo! Zoo would be a perfect gift to a young child and one that would become a family keeper.
Themes: Zoos, Animals, Games.
Pat Pledger