Dear Zoo: Touch and feel book by Rod Campbell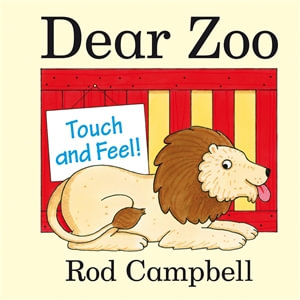 Ideal for both very young children and those just beginning to read Dear Zoo is a gorgeous picture book that is sure to become a keeper and passed on to the next generation. This version of Dear Zoo, which was first published in 2012, is an interactive touch and feel board book, with the child invited to name the creature that the Zoo has sent home as a pet, while touching and feeling some aspect of it.
The repetition of the words: 'I wrote to the Zoo to send me a pet. They sent me a … ' will have children chanting along and then guessing why the animal was sent back. Children just beginning to learn to read will love the repetition, enabling then to memorise the words on the page and feel very confident that they are decoding them correctly. Of course, the illustrations are delightful and the touch and feel aspects are very inviting. What child (or adult) could resist touching the soft hairy neck of the giraffe or sticking their finger in the lion's mouth to see if he bites?
Dear Zoo gives children the opportunity to learn about some of the animals that live in a zoo, while learning in a very enjoyable way what animals are suitable for pets. It is an ideal gift for a young child (there is a warning that it is not suitable for children under 10 months), and a book that can be kept for those learning to read.
Themes: Zoo animals, Pets.
Pat Pledger