Game on: Glitched by Emily Snape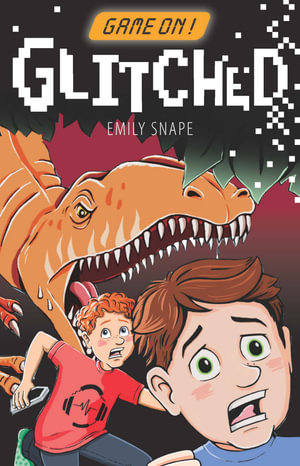 A series of misdeeds, including covering the neighbour's cat in bright pink paint, has got Max and his brother banned from screens for an entire weekend, something that is devastating for both of them particularly with an online gaming competition in a couple of days. So Max has resorted to practising his moves in his head, at the same time as trying to write a history essay for another competition but is distracted because his mother is going on a date with his history teacher. To distract him from that, he goes to the toilet but because his brain is every-which-way, he forgets to wash his hands - and that's when things start to go wrong...
Because his brother Liam is hiding in the bath playing on a phone he has found suddenly the boys find themselves travelling through time, back to earlier versions of their home town, in the time of the dinosaurs, the Stone Age, and the days of the Romans. And if they are ever to get back to the now, they have to solve riddles while carrying out tasks and dodging dangers... all before the battery runs out or they are discovered by their mum.
A sequel to Shrinkle and written to draw reluctant readers into print stories, the author says, 'Reading should be a pleasure and it was my aim to write books that pull you in and hook you from the start. Hopefully, then you can't help being moved by the characters as they grow and develop. I love comedy in books, but funny books also have to have heart, believable characters, and a great plot that keeps you reading till the very end.'
Using a modern premise of being drawn into a game, with characters not unlike themselves, and the sort of fast-packed, immediate action including countdowns, levels and time limits, this is the sort of story that will pull even reluctant readers away from their screens. They might even like to speculate on what might happen if they (or Liam and Max) were drawn into their own favourite game, a concept which, in itself, might spark story-writing and a group display of possibilities. Some might like to be inspired by the Lego Masters television series and recreate the world of their game, or perhaps investigate the origins and history of their own town.
Themes: Time travel, Computer games, Mobile aps.
Barbara Braxton