Dino love at Christmas by Michelle Worthington and Veronica Montoya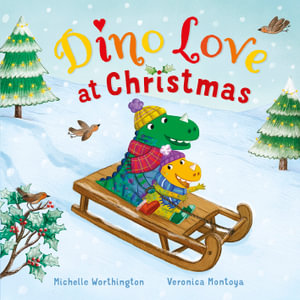 Following the characters first seen in Dino Love, young children will have a lovely introduction to the meaning of Christmas in Dino love at Christmas. Like the first book, love is a dominant theme, and a beautiful reminder that Christmas is a time of giving and getting and enjoying family around you. Starting with the words, 'Christmas is', the young child is given a glimpse into the things that make up Christmas. Christmas is decorating the tree, cooking in the kitchen, feeling excited, giving, and saying thank you. The text is very simple and will be remembered by children who will be able to join in with the book's reader.
Bright illustrations complement the text, portraying a snowy Christmas, with the dinos riding a sledge, skating on the ice, and building snow dinos. However, the indoor activities like cooking, opening presents in bed and decorating the tree will be familiar to children in warmer climates. The dinos are adorable, and the parental love is obvious.
This is a joyful, feel-good book that is ideal to read to very young children in the festive season.
Themes: Christmas, Love.
Pat Pledger