Dino love by Michette Worthington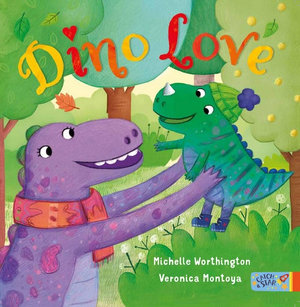 Bright illustrations and simple text capture all the loving moments that happen for a young child within a single day. From sibling love, to parent love, to friendship love and self love. On the way to school/childcare/kindergarten a little dino plays joyfully with a sibling, says goodbye to mum, learns, eats and plays with friends and reunites with family at the end of the day. These adorable and brightly coloured dinosaurs will engage little eyes and simple and repetitive text with hold their attention. 'Love is...goodbye hugs...feeling grown-up...doing your best'. Simple things are conquered, like writing letters and going down big slides and you can see the little dinos chest swell with pride at how he is loved, encouraged and supported.
This is a great book to read to young preschoolers or even those beginning school, especially those who tend to get a bit anxious about being separated from their family. It is a beautiful reminder that love is all around them in many forms, and that their family will be right there at the end of their busy day. 
Themes: Love.
Nicole Nelson