Zoopertown X-Ray Rabbit: it's time to save the day! by Jem Packer and Emily Fox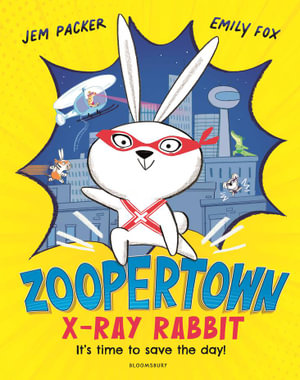 The Zooperheroes are on the mystery of the missing food. After their breakfast disappears and Go Go Gorilla's giant banana birthday cake cannot be found X-Ray Rabbit is on the case. She spies a banana skin and that sets her off on the trail of the thief who is stealing all the food. Will her amazing x-ray zooperpower be enough to solve the case?
Children who love superheroes will discover some very unusual ones in this book. Not only is there X-Ray Rabbit but Crash-Bang Koala, Zip-Zap Giraffe, Snap-Crack Croc, Zoom-Zoom Zebra feature too as well as the Zoopercopters that come to the rescue! The adventure is fun, and the narrative flows along building up the tension of the adventure. X-Ray must meet the Forest of Fright, dodges super-creepy critters, jumps over hissing, slithering snakes and comes to the Atrocious Tower of Terror, and finally all the Zooperheroes solve the mystery.
Readers will have fun guessing who the villain might be, the story reads along smoothly and is very enjoyable. The cartoon like characters are delightful and the illustrations contain humour and wit.
Children who enjoy this book may like to look at the BumbleBunnies series by Graeme Base.
Themes: Superheroes, Superpowers, Imagination.
Pat Pledger