You'll be the death of me by Karen M. McManus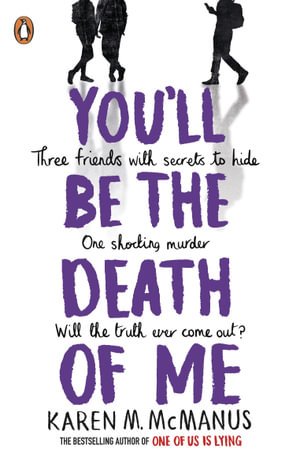 Wow! This is a book that is hard to put down! When Ivy, Mateo and Cal meet in the high school car park one morning they decide that it is a perfect day to skip school. Although they were no longer friends, they had had 'The Best Day Ever' when they had left a boring excursion when they were in middle school, and all had reasons to want another best day ever. On their way downtown they spot Boney Mahoney who is also truanting and almost witness his murder in an empty apartment building. The day turns out to be a disaster. They must evade the police, a witness claims to have seen a blond woman leaving the apartment, wild speculations that it is Ivy come from classmates and all three have secrets to hide. Why was Boney killed and who is the murderer?
McManus is an excellent writer of mysteries and thrillers. The pacing is fast and keeps the reader on the edge of the seat as one twist follows another. Fans of her previous books, One of us is lying, Two can keep a secret, One of us is next and Cousins will be queuing up to read this compulsive thriller. I could not put it down and read it in a couple of sittings.
But it is not just the plot that makes this a compulsive read. The characters are well drawn and easy to relate to. The story is told in the alternate voices of Ivy, Mateo and Cal and their background difficulties become evident through the narrative. All three have problems. Ivy is a high achiever who is very jealous of her talented brother. Mateo is working three jobs to help pay for his mother's medical expenses while Cal is facing the results of a disastrous relationship. They are all keeping secrets from each other, all of which could lead them into danger.
Readers who enjoy this may want to watch the 1986 classic movie Ferris Bueller's Day Off. Other books that will appeal are The Inheritance games by Jennifer Lynn Barnes and A good girl's guide to murder by Holly Jackson.
Themes: Murder, Jealousy, Poverty, Relationships.
Pat Pledger