You don't belong here by Elizabeth Becker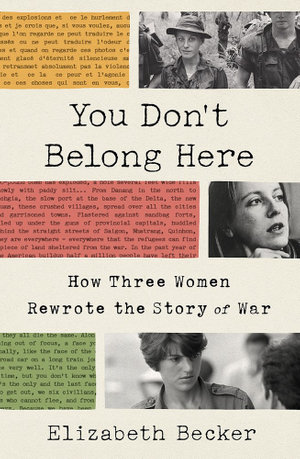 This is a collection of stories, written by Elizabeth Becker, herself a journalist at that time, about three women who chose to report on the war in Vietnam, when such a choice was not acceptable to men, who traditionally have reported on wars. Becker writes that all three challenged the common notion that only men knew about and could thus report on, war, each woman referring to their country's involvement, and commenting on certain events as they occur, their analyses riveting and intelligent. Long rejected by male reporters, for moving into this 'male' area, Australian journalist Kate Webb, French photo-journalist Catherine Leroy, and Frances Fitzgerald, an American intellectual, and also a photo-journalist, all assert their right to work within that world, despite its being traditionally covered only by male journalists.
Highly successful in their work, their writing skills were considered to be clearly equal to their male colleagues, who had dominated this area in the past. Bringing a fresh view to the aspects of war, as seen through their work, the women clearly depicted the conditions of the soldiers, and the resolutions that they describe at the time of their reporting. Long denigrated by the western world as being unable to be appropriate reporters of war, these women chose to reject that notion and their writing sheds light on their particular area, enabling the reader of their time to gain a deep understanding of that time and world.
Quoting the expectations for women who chose to be reporters at that time, Becker includes a list of conditions under which Leroy was permitted to work at her job: "Leroy was expected to be ladylike … it came down to her gender." Also it was suggested that she didn't belong because "she wasn't a guy". Some members of the military tried to get the Air Force to exclude her, one even suggesting that she was 'unwashed' in the Biblical sense. Fortunately, other men in leadership supported Leroy, stating that she was professional and that she produced photographs of 'world class standards'. All three women, and Becker herself, worked under similar conditions.
Accessing letters and interviews, as well as their actual writing, Becker describes their worlds, the responses of readers, and the depth of their work. In a revelatory and riveting manner, this book taking the reader into an area that was not discussed in that time. Becker has addressed the notion that women ought to have had a justifiable place in the reporting world, that being 'permitted' to report on war, and thus to consider another perspective of the conditions, events and world of the Vietnam War, was very important.
Becker had been thinking deeply about the impact of the war on the people of Vietnam, wanting to alert the readers of that time to consider also how the war changed not only the lives of the soldiers, but indeed it changed so drastically the world of the people and the lives of so many of the Vietnamese community. She states that the three women worked with her in the compilation of their stories. Becker's book is highly recommended for adolescent and adult readers.
Themes: Short stories.
Elizabeth Bondar