Witches by Roald Dahl. Illus. by Quentin Blake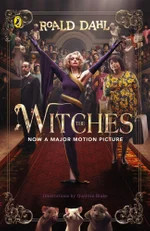 With a front cover to link to the newly released movie based on this book, this book will be reread by the latest generation of Roald Dahl devotees. With his wicked wit and quirky style in which children seem to have more intelligence than adults, Dahl has created an impish story where witches trip over themselves in trying to eliminate children from the world. The young boy who is the central character has a sad start to life and must go to live with his Norwegian Grandmother who tells him stories . . . and particularly stories about witches. An unfortunate encounter with these evil, magic-wielding women leads to hair-growing animal transformations for the boy, but ultimately his goodness and intelligence (and his mouse-like qualities) lead to the downfall of the wicked witches.
Dahl's style is irrepressible and sometimes naughty, but this book demonstrates that his style is attractive for children who like to see kids overcome difficult circumstances with good grace. Considering the losses that the boy experiences there is no maudlin focus on this loss. The awful witches are quite gross and revolting in manner and appearance and children are more likely to be horrified by this in film than when reading this story. There is a tongue-in-cheek critique of many adults in authority and of greedy self-focused children, but also no respect for the witches.
Carolyn Hull