Wild life: The extraordinary adventures of Sir David Attenborough by Leisa Stewart-Sharpe. Illus. by Helen Shoesmith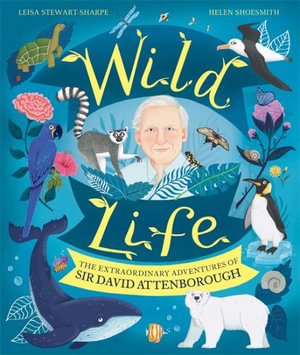 Sir David Attenborough's life story is told in this engaging and visually appealing picture book, Wild Life: The Extraordinary Adventures of Sir David Attenborough. This beautifully illustrated new release will allow the young reader the opportunity to share in the life journey of Sir David from the age of eight to the present day. A gift of a fire salamander on his eighth birthday began the incredible journey of this man who is easily recognisable by his trademark blue shirts and is known all over the world for his work with, and deep love, of nature.
In 1954 Sir David realised it was becoming too hard to bring animals into TV studios, so he decided to set off exploring the world and film every strange and mysterious creature he saw. One of the places Sir David found the most magical was Australia's Great Barrier Reef. He was intrigued by the creatures and the colour he found there. In 1979, 500 million people watched on their television screens the documentary Life on Earth which had taken three years to film. The whole viewing world was fascinated.
On Sir David's travels he became more and more concerned about the environmental damage happening to our planet. He met with world leaders to express his concern and inform the world of the need to take more care of our declining habitats and the damage humans are causing. The final pages of the book showcase some of the unique animals from Sir David's adventures and examples from his own childhood mini museum.
This wonderful book would make a perfect gift for a young child who loves nature and is a must-have for schools and public libraries.
Themes: Sir David Attenborough, Biography, Nature, Wildlife, Naturalists, Conservation.
Kathryn Beilby