Who's hiding? by Satoru Onishi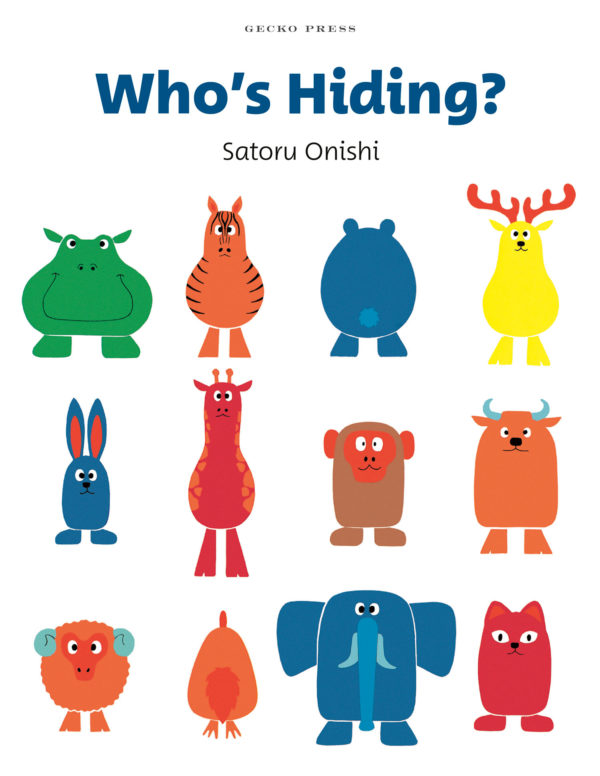 With 18 very cute little animals featured, this board book is sure to appeal to every young toddler who loves animals. Adults too, will have fun with children as they go through the book, finding the animal or animals that are hiding on a double page spread, and working out the ones that are crying, or backwards, are happy or angry or showing other emotions.
Animals include a combination of zoo animals, pets, and farm animals such as dog, tiger, hen, cat, elephant, lion, kangaroo and so on. The illustrations are labelled on the first double page spread and to add to the fun, the last double page spread is black with just the eyes shown, and the reader is questioned 'Who's who?' It is fairly easy to find which animal or animals are hiding on the page, but when the reader is asked to identify the emotions, much more attention must be given to facial expressions and details. This could lead to discussion about emotions, how being angry, sad, happy feels. The concept of backwards could also be examined.
The illustrations are delightful, all coloured in vivid tones and the facial expressions are appealing.
The sturdiness of the book will ensure that it survives some constant handling as the interactivity of the puzzles is sure to intrigue its readers.
Who's hiding is likely to become a family favourite, providing much enjoyment and fun.
Themes: Animals, Puzzles.
Pat Pledger