Vernon the penguin by Natashia Curtin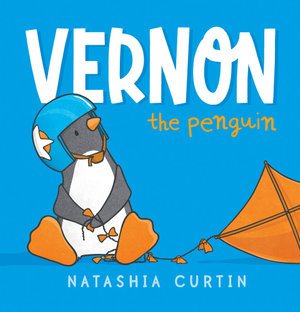 A wonderful joining in story will appeal to young readers as the story is read aloud to them. They will not be able to contain themselves, calling out Vernon's name at the appropriate places, and whooshing with the words denoting the movement of the penguin as he strives to achieves his greatest ambition: to fly. From the cover where Vernon sits with a kite, a crash helmet firmly placed on his head, the smiling will start, then turning the cover and seeing the endpapers filled with images of Vernon in various poses, kids will laugh out loud as Vernon aspires to achieve the seemingly impossible.
Since he was born he has always wanted to fly. At night he dreams of twirling and swirling and one day he makes a decision. He makes some wings but they do not work, he attaches himself to a bunch of balloons, has himself shot from a cannon, uses a seesaw, a slingshot, a hot air balloon, but all to no avail. Mother tells him to go and see the wise old penguin on the ridge. He tells her his problem and she offers a solution, one that shows him that although he cannot fly, he can do other things.
A very funny tale about accepting who you are will bring tears of laughter to the readers' faces, as they strive with Vernon to achieve his impossible dream, only to find that there are lots of things he can do that involve the same sorts of skills. He can swirl and twirl, swish and curl just as well sliding along the ridge flying into the air and landing in the water. And he can do it very well, receiving lots of applause and accolades from the onlookers.
A delightful tale of being yourself, of striving for something out of your reach but accepting your limitations. I love the images of the little penguin, looking upwards, seeking to fulfil his dream. A few changes with a pencil and he is sad, another, optimistic, but always engaging and funny.
Themes: Dreams, Goals, Achievement, Penguins.
Fran Knight