Twelve little festive frogs by Hilary Robinson and Mandy Stanley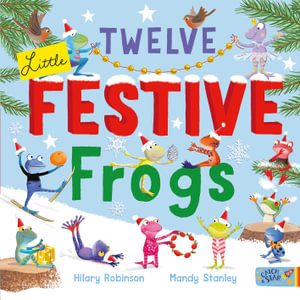 Based on the classic rhyme, The twelve days of Christmas, Twelve little festive frogs is a lovely counting books that will appeal to young children. The title page introduces the reader to the names of all the little frogs, who cavort in a circle around the title. All are drawn in cute poses and dressed in bright clothes, each holding a small branch from a Christmas tree. The text is simple, instead of a partridge in a pear tree, the frogs find a parcel and the words 'Pass the parcel!', in tiny font, tell the frog what to do with it. Then of course, the text accumulates until the parcel lands in a beautifully decorated fir tree. Young children will love the alliteration of word combinations like 'dancing deer', 'rockin' robins', and 'frosty feathers' and will have fun trying to remember all the items.
They will also enjoy perusing the bright illustrations and identifying all the fun things associated with Christmas. Each little frog can also be identified by its unique clothing and coloured face, which are really cute and lots of fun. Details like a little rabbit watching what is going on, prancing deer and a sleigh that is used to pull the presents will also intrigue readers.
This is a very happy, feel-good book that is sure to be enjoyed during the festive season.
Themes: Christmas, Frogs, Presents.
Pat Pledger