Treehouse tales by Andy Griffiths. Illus. by Terry Denton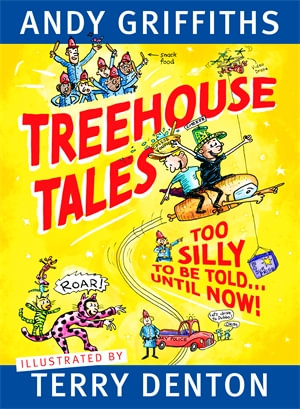 Treehouse Tales, written by world renown creators Andy Griffiths and his partner in crime, Terry Denton, have been entertaining their audience for years. This new novel is crammed full with 13 fun filled, action packed short stories to keep you enthralled and entertained. Griffiths and Denton have again combined together with amazing wittiness and jest. This latest book is, without a shadow of a doubt, another side-splitting sensation. And if you are unfamiliar with their Treehouse series, then you are certainly missing out on some fun, laughter and mayhem! All are a must read for anyone that loves a good laugh!
Featuring the same goofy characters, Andy, Terry and Jill, Treehouse Tales contains 13 chapters, each comprising of a short story. Each one is hilariously funny and will keep the audience captivatedly reading and wanting more. Who could have thought that after 11 novels in the Treehouse series you could find anything funnier than those, but I think Treehouse Tales beats them all! Packing a quick punch with every chapter, there are indeed gigantic laughs to be had. From magic wands, to chairs on noses, toilet capers to piano fiascos, you never know what Terry and Andy are going to get up to next. What other adventures could Andy, Terry and Jill possibly have…. and more to the point, what else could possibly go wrong?
Australia's famously funny author Andy Griffiths and illustrator Terry Denton are both hilariously witty and compelling creators. They have again worked together to develop another fast paced and highly entertaining selection of material that always keeps the audience wanting more. The written format of the book is cleverly interwoven with cartoon style illustrations and gives the reader plenty to be captivated by. The layout of the book makes for an easy and extremely engaging read for all ages. If you love a good laugh, enjoy a little fun and shenanigans then this story is not to be missed!
Themes: Humour, Friendship, Creativity, Fun.
Michelle O'Connell