Three dancing frogs by Leigh Hardingham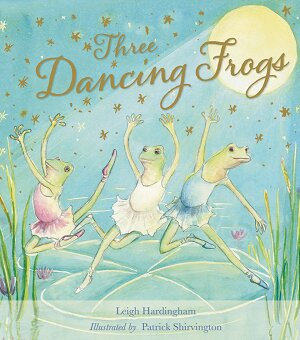 Soft watercolour illustrations accompany this poetic and magical tale of a bushland ballet performance. As the day grows old the Aussie bush animals are all preparing for the show: 'possums and geckos are filling the spaces; Bilbies and beetles are taking their places'. The rest of the cast include cicadas, fruit bats, emus and spiders. Some of the animals make up the audience, while others are providing musical accompaniment; there are flutes and harps, cellos and violas. But it's the three little frogs who take centre stage. Their movements are rhythmically described: 'through ribbons and reeds, with lightness and ease'. Little ballet dancers will love the inclusion of ballet language such as arabesque and plie. It starts to rain but 'the audience is silent, lost in romance' and as the lightning strikes and the thunder rolls the three little frogs reach the crescendo of their performance.
Patrick Shirvington's (Can you Find Me?, Can You Find 12 Busy Bees?) illustrations are stunning and dreamy with soft edges that work to immerse you into the page. Along with these superb visuals, vivid imagery and rich description of the music and the dance lead the audience right into the performance, creating a dramatic feast. The way it describes the visual and musical elements of performance is reminiscent of A Guinea Pig Nutcracker. This will be adored by young ballet dancers and those with a love of performing! Teacher's notes are available.
Themes: Ballet, Australian animals, Rhyming story.
Nicole Nelson