The worst sleepover in the world by Sophie Dahl and Luciano Lozano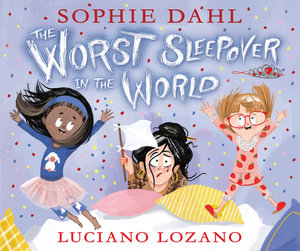 A book every child and perhaps parent can relate to, a must read! With the combination of a very fussy child and a parent who tries too hard and wants to join in to improve the mood of the sleepover, the reader will find the book hilarious.
Ramona is having her first sleepover with her friend Gracie. She dreams up all the wonderful things they are going to do and feast on. However, her best laid plans go down the drain. First, her mum upsets the plans, and then on the night, things go from bad to worse.
It's as if Gracie doesn't want to be there from the moment her mum drops her off. She says she's fussy, but maybe it's something else.
As the night goes on Ramona gets more and more upset because Gracie takes her bed, then her mum's bed and she thinks her mum loves Gracie more than her. Finally, at midnight all have fallen asleep. In the morning things always look different, can the girls patch up their friendship?
I found the illustrations very colourful and depict the feelings of each of the characters accurately. With more words in this picture book than you would normally find, Luciano Lozano still crammed plenty of detail into his wonderful pictures. Teacher's notes are available.
Themes: Friendships.
Natalie Fisher