The world's worst pets by David Walliams. Illus. by Adam Stower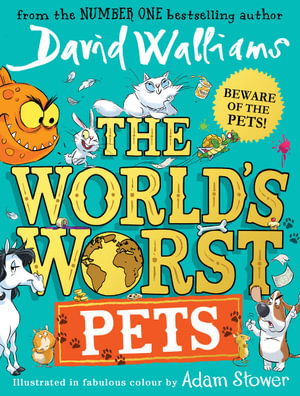 Everyone, both young and old, has laughed along with David Walliam's hilarious World's Worst series about children, parents and teachers. Well here is another, The World's Worst Pets, and it certainly won't disappoint! This new novel is jam packed with 10 outrageously funny, action packed short stories with both mischief and mayhem about, you guessed it…PETS! But should we just say that these stories are not about any average old pet!
Each chapter will introduce you to different animals that will have you gasping for breath at their unashamedly outrageous behaviour. Pet owners will be doing a double take on their precious pets in the future, after reading a few of these twisted tales. Who would imagine these cute creatures could actually be so wicked and wilful? This latest book is, without a shadow of a doubt, another horrendously horrid sensation for readers to love. And if you are unfamiliar with David Walliams other books, then you are certainly missing out on some fun, laughter and should take the time to read them all! They are certainly a must read for anyone with a good sense of humour that loves a great laugh!
From a furping fish, that will eat you out of house and home, to a bad talking budgie, that will steal all your prize possessions…. nothing is off limits! Walliams again capture his audience with the most outrageous and extreme scenarios! The colourful and creative illustrations by Adam Stower are next level. Bringing further engagement to the story with labelled diagrams, bright colours and comical characters, every reader will be enthralled by these captivating caricatures.
Walliam's has again woven his magic to produce another fast paced and highly entertaining book to complement his previous work. The layout of the book makes for a fun, exciting and highly appealing read for all ages. If you love animals and enjoy a good laugh, and have often wondered what pets really could get up to, well this story is not to be missed!
Themes: Humour, Animals, Mischief, Creativity, Fun.
Michelle O'Connell