The wizards of once: Never and forever by Cressida Cowell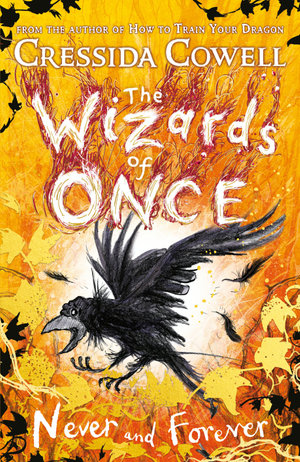 Never and Forever is the final book in the Wizards of Once quartet but it can stand on its own and be read as a fully contained story. In fact, this story, complete in and of itself, could be a great introduction to the wonder of fantasy literature to the uninitiated.
The narration is warm, chatty, instructive, funny, exciting, and observant and it is only at the end that the narrator is revealed. You must not turn to the end because "anyone who has skipped to this epilogue before reading the rest of this story is a big cheat and should go right back to chapter one or I will get really quite shirty"(Page 374). All the way through, the reader is accompanied by this energetic narrator.
The journey that is embarked upon by our protagonists Xar and Wish in The Wizard of Once series, is full of adventure and magic. There are whimsical characters such as enchanted spoons, forks, keys and pins. There are magical creatures such as trolls, sprites, giants and "piskies".  There are wizards, witches and warriors: good and evil.  The story draws from the past- King Arthur, Camelot, Macbeth and Lancelot and is like a crucible of celebration of all great stories. Like all great stories it encompasses love, forgiveness, desire, tenderness, courage and endurance.  Fundamentally the message is that it is a terrible thing to deny love. The consequences can ripple through the generations and lead to annihilation. The quest within the series is to retrieve the spell to undo love denied. What a powerful and enduring message!
The Wizards of Once series has been translated into 38 languages and has been signed by DreamWorks animation.   Cressida Cowell is currently the Waterstones Children's Laureate (2019-2021). She is the author and illustrator of the best-selling How to Train Your Dragon books series and author of the Emily Brown picture books.
Highly recommended for Year 5 through Middle Years' lovers of fantasy and  for those who haven't yet enjoyed the fantasy genre.
Wendy Jeffrey