The Wheelbarrow Express by Sue Whiting and Cate James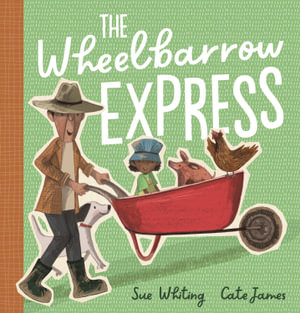 It is time for Tom to leave his grandfather's farm and return home with Mum and Ruby. He is gloomy to leave his grandfather and the farm where he has enjoyed himself. Pa suggests a last ride on the Wheelbarrow Express, and putting the train driver's hat on Tom, they set off. The story takes them on a journey around the farm, Tom stopping off at each memorable place to say goodbye.
Aboard the wheelbarrow, they make their way across the paddock with a 'toot, toot, choo-choo-choo-choo.'
They go first to the Pig's Playhouse where Tom said goodbye to the piglets who are all excited to see him. Here he finds his triceratops buried in the mud. Next stop is the henhouse, where an excited bunch of chooks feed on the seed thrown out by Pa. Tom collects some eggs to take back home. Next they visit Goat Mountain, where one goat, Missy takes Tom's train driver's hat. And Pa tells him that he is a champion kid, the best ever. He chases Missy and when she drops the cap, Tom finds a cockatoo feather beneath it. He adds it to the eggs and the triceratops. They pass through the olive trees, then come to the yabby dam where they practise stone skimming for a while before returning to the farmhouse where Mum and Ruby are waiting.
Tom and his Pa say their goodbyes, each grinning a champion grin to the other, knowing that Tom will return.
Change is about to disrupt Tommy's life and the Wheelbarrow Express is a way of disarming the gloomies that Tom feels on leaving his beloved Pa. The two journey for the last time, going over the things they have done together while Tom has stayed on the farm, reprising the things they have shared.
In the end Pa feels the gloomies and it is up to Tom to dispel the anxiety Pa feels. Heartfelt in its depiction of the love between Pa and Tommy, the tale is brimming with their shared support and affection. The fun of the train ride around the farm is reflected in the humorous illustrations. Bold, colourful and full of detail about Australian farms, children will pore over them as the book is read to them, taking note of the different lifestyle presented here.
The repetition of several phrases will stay with the children as they read of Tom's departure, knowing that Pa loves him just as much as he loves Pa.
Themes: Grandparents, Grandsons, Farm life, Wheelbarrows, Love.
Fran Knight