The three happy lions by Louise Fatio. Illus. by Roger Duvoisin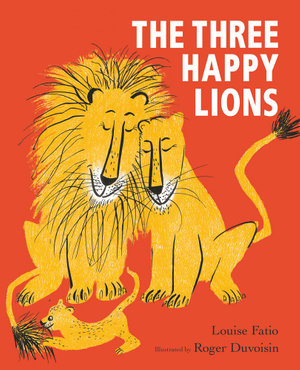 A new edition of a classic tale, the last in a series of three, is all about family dynamics, as the parents wonder what their child will be when he leaves home.
With its mid century illustrations, full of movement, colour and humour covering each page, the wit of the text will engage readers as they follow the tale of the baby lion and the careers he attempts. Called Francois after the zoo keeper's son, at first he becomes a rich lady's pet, but in growing to be a big strong animal, can no longer jump onto her bed as he has in the past. So he is given to a circus, where despite the efforts of the ringmaster, his nature is not one that can frighten the circus crowd.
As a result he comes back to the zoo, where his parents welcome him warmly. He spies Francois doing his work, that of gardening at the zoo, and decides that this is the job for him. So the two Francois plant, mulch, nurture and weed all the gardens at the zoo. And are watched by happy, proud parents.
A wonderfully warm theme of families and their concerns, the parents go through a list of jobs their offspring could do, but many of them are simply not for him, while the two careers he does take up proving incompatible with his nature and size, so it is back to the zoo to find a niche.
Children will love thinking about what they might like to do in the future and the pathways open to them, thinking about the skills they have and how they can be useful. They will also see a happy family unit with needs and concerns, contentments and happiness just like their own families, following the path of a young lion working out what is best for him.
Scallywag Press was founded in 2018 with the purpose of bringing entertaining and memorable books to a worldwide audience.
They publish distinctive, amusing and quirky art, publishing work by talented newcomers as well as some from the past.
Three happy lions is a joy to hold, read and savour. And I loved the French background and sprinkle of French phrases.
Themes: Careers, Lions, Zoos, Circus, Gardening, France, French language.
Fran Knight