The summer we turned green by William Sutcliffe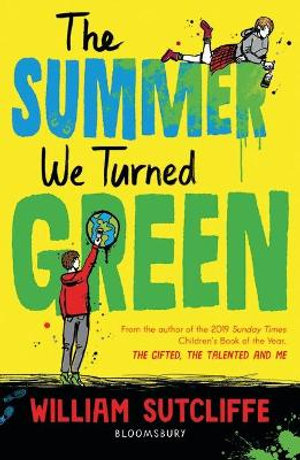 Luke lives in an ordinary family on an ordinary street with parents running on the treadmill of capitalistic endeavour. Into this scenario a community of environmental activists arrive as squatters into the house across the road. Due for demolition, this house is in the way of the progress of an airport runway extension and the expansion of capitalistic and environmentally disastrous endeavours. Akin to The Castle in Australian folklore, the activists must fight against the ever-encroaching movement of progress and destruction. Luke's sister, Rose, moves across the road to join the activists. Her father joins in too in the hope that Rose will return home, and Luke and his mother watch on in varying shades of desperation. Slowly the 'cause' takes over the whole street and mediocrity and apathy is replaced by endeavour and cooperation. Luke joins his new friend, Sky, and finds his voice to address his family division and the future of the planet.
This is a gentle environmental story exposing the actions and motivations of the environmental movement, with touches of humour added to lighten the activism. Woven within the distress of a family slowly fracturing within suburbia, there is still hope as they discover a common cause and work together. Luke is reflective and reserved and an endearing and modest heroic character. The delight of the book is seeing inside and discovering the plans of the eclectic and extraordinary community of climate activists who lurch from one issue to the next as they attempt to change the world.
Themes: Environmentalism, Family, Protest movements.
Carolyn Hull