The storm keepers' battle by Catherine Doyle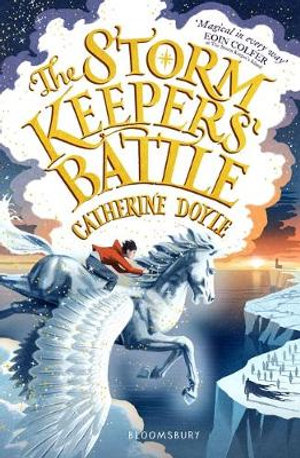 This is the final episode in the trilogy involving Fionn Boyle – the reluctant hero and Storm Keeper of Arronmore, first introduced in The storm keeper's island. In this final story set in Arronmore, he must rally the islanders to overthrow Morrigan, the evil sorceress that leads the soul stalkers and is keen to take control of all the islanders. She has no idea that the loyalty of the islanders is stronger than her evil power…. But first Fionn must summon all his newfound magic to give them any chance to win the final battle. This is action-packed and steeped in magical forces swirling in and through the young Fionn.
This story has parallels/similarities to a Harry Potter story with the reluctant and brave young hero having to overcome his own personal insecurities and draw on the strength of others – older islanders and his friends, in order to have any hope of overcoming evil. The battle is both sad and intense and yet the smallest hope wins against the hopelessness of evil. Because it is the ultimate part of the story it is assumed that readers have come to the storyline by reading the previous two books in the trilogy. There is not a lot of introduction to the world of the Storm Keeper or Arronmore in this book, but it is a wonderful and inspirational tale when the trilogy is read in total.
Themes: Fantasy, Adventure, Magic, Overcoming fear.
Carolyn Hull