The rock from the sky by Jon Klassen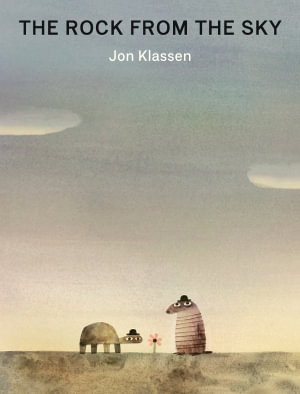 A curious tale about friendship and personal space, about being together and being alone, about things you can't avoid and things you do not understand, Klassen's latest book will have readers of all ages thinking about the imperfections of life while laughing out loud at the absurdity of the three friends seemingly playing out a scene reminiscent of Waiting for Godot.
The trio: Turtle, Armadillo and Snake all have a space they like to occupy. Their spot is the best and they offer their spot to their friends to come and join them. Each sings the praises of their own spot. But Armadillo is uneasy about Turtles' spot and is happy to remain where he is. Turtle after a while, joins him. Just in time as a huge rock falls onto his spot.
Chapter two, The Fall sees them looking at the rock, this interloper. Turtle defends the rock that has fallen, giving a reason for it being there, offering its shade to the others.
Chapter three, The Future, sees them imagining what the future may be like. They conjure up plants and trees around the space and are happy with what the future my hold. But into this space coms a creature that they do not understand. As it goes they decide not to try to see into the future.
Chapter four, Sunset has two watching a sunset as the sun disappears beyond the horizon. Turtle is intrigued and calls out to see what they are doing, but he cannot hear the answer and so must come closer to see what is happening. By the time he reaches them the sun has gone.
The fifth chapter, No More Room, is where Turtle is cross that the other two are sleeping comfortably by the rock. He cannot hear them and keeps moving closer until another rock falls on the place where he has been. Laughter will light up any class that reads this book, soaking up the absurdity of the situation, the incidents which occur and the responses that each displays.  Readers will laugh at the discussion of who has the best spot, their discussion stopped by a falling rock, and laugh again at the conversations between them: illogical, nonsensical and going nowhere. Parallels will be recalled and shared, situations discussed and life lessons drawn out amidst the laughter.
And did I mention the illustrations! Wow.
To see Jon Klassen reading his story go here. And another about his book in which he talks about the influence of Alfred Hitchcock on his work can be found here.
Themes: Humour, Future, Friendship, Imagination, Hitchcock, Theatre of the Absurd.
Fran Knight