The puppets of Spelhorst by Kate DiCamillo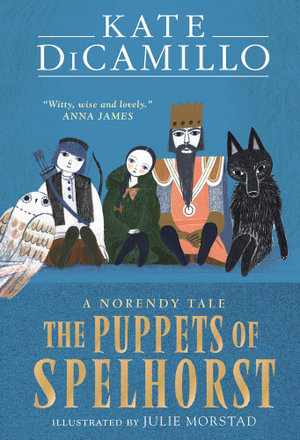 Kate DiCamillo, winner of the Newbery Medal and other awards has written another charming fable that will delight fans. An old sea captain has died, leaving behind a chest containing five puppets, a boy, a girl, king, owl and wolf. The chest is sold and eventually ends up in the home of two sisters, Emma and Martha. They decide to put on a play featuring the puppets, who were waiting for their adventures to begin.
The story is told in three acts, and in alternating voices, and the reader will learn about the unrequited love of Spelhorst, the sea captain, the wishes and adventures of the five puppets, the puppet play organised by Emma, and the desire for change of the maid Martha. These overlaying tales are beautifully brought to life by DiCamillo and lovingly illustrated by Julie Morstad in black and white illustrations that bring to life a Regency life period. The voices of the puppets who could not control their own destinies, were particularly poignant, and I loved the wolf who would like to use her sharp teeth. Award-winning Kate DiCamillo discusses the book here.
Perfect for young independent readers, The puppets of Spelhorst would also make an engrossing and challenging read aloud class novel. As this is the first in a planned series called A Norendy Tale, readers are sure to want to pick up further books, and may like to try other books by DiCamillo like Raymie Nightingale and The Magician's elephant.
Themes: Puppets, Storytelling.
Pat Pledger