The outlaws Scarlett & Browne by Jonathan Stroud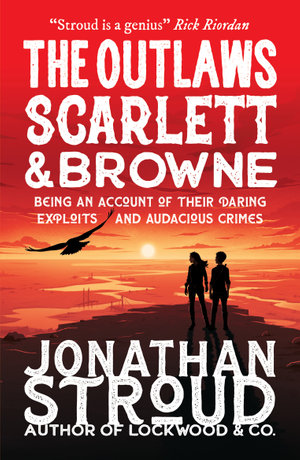 Right from the words on the cover ('Being an account of their daring exploits and audacious crimes') I was drawn into this exciting, dystopian adventure, by one of my favourite authors, Jonathan Stroud. I have always picked up his books from the time I encountered the Bartimaeus trilogy and then went on to be enthralled by the Lockwood & Co. series. What a thrill to see that he had started another series. This story is set in a future England where the country has been broken up into regions, as shown by the map at the beginning of the book. Scarlett McCain is a loner, an outlaw who has no compunction about robbing banks and is adept at fighting off both the law and the monsters that roam the land. When she comes across a wrecked bus, she rescues Albert Browne, a strange, naive boy and agrees to take him to safety. But Albert is hiding secrets and as they travel across the desolate countryside, danger follows the pair.
The Outlaws Scarlett and Browne was very difficult to put down as the exciting action pulled me in while the characters of Scarlett and Browne were so interesting that it was almost impossible to leave the story. I wanted to find out their backgrounds, what had happened to them in the past and whether they would have the skills to survive the perilous chases from their enemies and find sanctuary. The witty dialogue was also a plus.
Gun fights, bank heists, cannibals, the frightening Tainted people, and the truly scary Dr Calloway directing Browne's capture, provide much of the action. Meanwhile themes of what it means to be human, and who should be able to wield power will provide discussion points. The author can be heard talking about his book here, and extensive teaching notes are also available.
This would make a good class novel or literature circle choice and readers will want to read the next in the series.
Themes: Dystopian fiction, Outlaws, Theft, Power, Being human.
Pat Pledger