The other side of perfect by Mariko Turk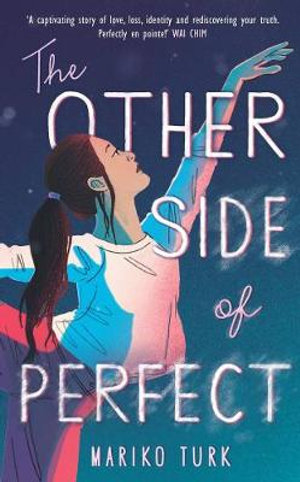 Alinta, a disciplined ballet student, has devoted her childhood to studying classical ballet. After shattering both her tibia and fibula, her hopes of a ballet career are likewise shattered. The teenager struggles with heartbreak, loss and jealousy when settling back into regular school life without the significant dance component that would have fast tracked her to a place at the American Ballet Theatre.
Her best friend, Margot, encourages Alinta to try out for the school musical, Singing in the Rain, though she fears it a poor substitute for her lifelong dancing dream. But a group of stage musical tragics, one of whom she is attracted to, begin to change her mind.
Alinta's sister Josie, also a dancer (albeit modern dance) and obviously Japanese-American too, confronts Alinta about her jealousy and enlightens her about the systemic racism Alinta glossed over whilst attending her old ballet school. Alinta becomes concerned for Colleen, an African American ballet dancer, who continues to be marginalized in favour of white dancers of lesser talents. Unlike her new friends, Alinta cannot malign the focus and perfectionism of the musical's female lead. She recognizes her own commitment to her art in Diya.
Alinta grapples with immense life changes, not least the racism in the arts – always topical in any sphere. Certainly, The Other side of Perfect is no sentimental teenage romance – but lightweights need not be disappointed as there are more than enough romantic interludes for Alinta and Jude.
This layered art form discussing other art forms, is a refreshing shift in YA reading fare. Secondary school collections will be incomplete without this distinctive narrative. Teacher's notes are available.
Themes: Bildungsroman, Romance, Racism.
Deborah Robins