The other black girl by Zakiya Dalila Harris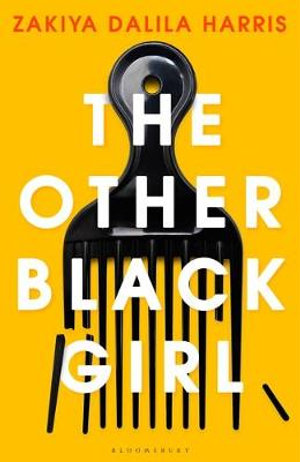 Black girls together, solidarity! At least that is what Nella hopes, when a new black girl gets an editorial assistant position in the same publishing house where she works. Up until that time, Nella has been the only black person in the all white Wagner editorial team, struggling to highlight diversity issues in the manuscripts that come across her desk. But then the threatening notes start turning up, 'LEAVE WAGNER NOW', and Nella has to wonder if Hazel, the new super confident achiever is behind them.
The author Zakiya Dalila Harris spent nearly three years working in the editorial department at Knopf Doubleday, beginning work on this novel at her desk, so the scenes exposing the hierarchies within a publishing house, the tension around raising issues of racism, and the competitiveness between editorial assistants wanting to rise up the ladder, all has the ring of authenticity. Nella wants to help new young black writers to get published, and also ensure there is a genuine black voice in the literature that Wagner promotes. But she finds that she is increasingly being sidelined, Hazel is becoming the favoured black spokesperson . . . and the threatening notes keep coming.
Interwoven with Nella's story are occasional chapters set in a different timeframe, so the reader needs to pay attention to the dates at the beginning of chapters. New characters and scenes are introduced, and it is not until well over half way through the book that we start to understand what they are about. The novel starts as a modern day social commentary, mixed with elements of the thriller, and then takes a disconcerting sci-fi turn. Perhaps younger readers will not be put off by this twist.
The novel is well grounded in black politics, and black culture, the characters are convincing, and the writing keeps the reader engaged. Readers who like a mix of genres will enjoy this book.
Themes: Black writers, Racism, Deception, Control.
Helen Eddy