The Disney Book New Edition. A Celebration of the World of Disney: Centenary Edition by Jim Fanning and Tracey Miller-Zarneke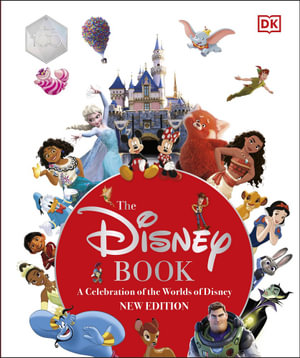 On October 16, 1923, two brothers began a company that has brought immeasurable joy to millions of people throughout the world for a century! Those brothers were Walt Disney and Roy Disney and their company was known as the Disney Brothers Studio.
At a time when black-and-white silent films were state of the art, Walt Disney had a vision to create "a novel entertainment that was uniquely engaging" and for the Disney name to represent quality. Nearly 50 years since his death in December 1966, one wonders if he could ever have imagined that company being what it is today. From a young lad who loved to draw cartoons that appeared to move as he flipped the pages quickly, to his first animated image in 1927 - a rabbit named Oswald - and his belief that "cartoon animation offers a medium of story telling and visual entertainment which can bring pleasure and information to people of all ages around the world" the name Disney has become synonymous with family entertainment that is engaging and enchanting with memories and moments that last long after a particular feature has ended. How many of us of a certain generation recall that special time at 6.30 on a Sunday evening, curling up in front of the television to see whether we would go to Frontierland, Tomorrowland, Fantasyland, Adventureland or Main Street USA for the next hour? How many of today's children view a trip to Disneyland as their must-have life experience?
And all this history and wonder is encapsulated in this new centenary edition of The Disney Book, a glossy tome incorporating beautiful art and artefacts from The Walt Disney Company's vast historical collections, with a decade by decade illustrated timeline spanning 12 pages offering an incredible archive of all that the name Disney conjures up.
Updated from the 90th anniversary version, it includes all that has been achieved between 2012-2023 making it the most comprehensive collector's item for Disney fans as well as those with an interest in animation, film-making, children's entertainment or aspirations of being the new Disney, themselves.
For me, this is 256 pages of memories of childhood - mine, my son's, and my granddaughters' - so this will have a special place in our family library.
Themes: Disney.
Barbara Braxton