The devil makes three by Tori Bovalino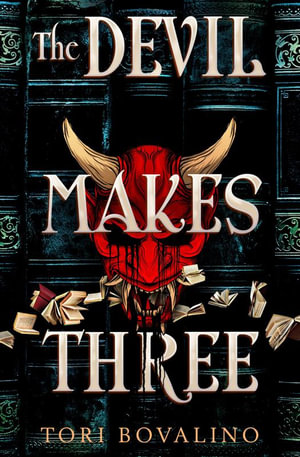 As a fan of stories set in libraries and featuring ancient manuscripts, I was drawn to the blurb of The devil makes three: "When Tess and Eliot stumble upon an ancient book hidden in a secret tunnel beneath their school library, they accidentally release a devil from his book-bound prison, and he will stop at nothing to stay free. He will manipulate all the ink in the library books to do his bidding, he will murder in the stacks… "
Bovalino has written an engrossing horror story that will keep readers on the edge of their seats, wondering what will happen next. She creates a chilling atmosphere with some gory moments that are not for the faint hearted. The idea of ink bleeding from the pages and a devil possessing bodies is sure to please fans of the horror genre.
The author's two main protagonists, Tess and Eliot, are well developed and easy to relate to. Tess is a rock, solid and determined that her younger sister will have the life that she deserves, even though it means she will miss a place at a prestigious music school. Eliot, the son of the principal of Falk, appears to be a spoilt young man, but gradually his background and the love he has for his magical mother is revealed. The pair gradually get to know each other better and must rely on each other's abilities to defy the devil and stop him possessing other people.
Readers who enjoyed Sorcery of thorns by Margaret Rogerson may enjoy The devil makes three, and the setting of an old library and a romance is sure to appeal to other readers.
Pat Pledger