The cult of romance by Sarah Ayoub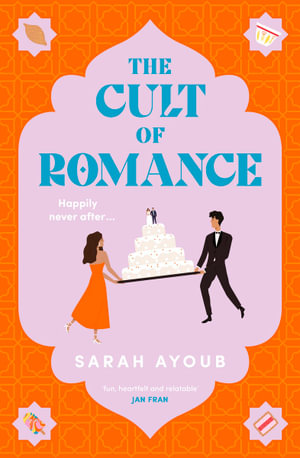 Natalie and Janet are united in their scorn of the 'cult of romance'; they are going to be strong independent women, starting their own cake catering business after university and saving to travel together around the world. At least Natalie thought that was the plan until she discovers her friend has returned from a visit to Lebanon with an engagement ring on her finger. Natalie is horrified to discover that Janet is prepared to give it all up, and marry, young, to a man she can't possibly know that well. On top of that Nat is expected to be maid of honour and organise the bridal events in a country she has never been to.
Ayoub's novel moves quickly, carried along by the conversations between Natalie and her family and friends. Family for Natalie is her father and her very traditional grandmother, Tayta. There's a bit of a mystery about her mother, who left them, whilst suffering from post-natal depression. That early rejection, plus the feeling of being caught between two cultures, Lebanese and Australian, makes Natalie determined to carve her own future, not defined by any man. So things become complicated when the groom's best man turns out to be quite attractive, despite their initial animosity.
It's a light and easy read, mainly because of the natural flow of conversation that Ayoub is particularly good at creating. But at the same time there are quite complex issues of identity and allegiance that are being explored. There is also a friend, Mark, who acts as a moral compass point. He is possibly gay or queer, but it is really not an issue, and not a focal point of the story; he is just a really good friend, who is always there for Natalie. I liked the way that it is his personality, not his gender, that defines him; he is a true friend.
For the most part, the novel rings with humour, with references to the romantic comedy 'My best friend's wedding'. Natalie is a strong and feisty character, the kind of person who lands herself in trouble in spite of herself. But the themes are serious and reveal the real dilemma of identity for migrants caught between two cultures.
Themes: Identity, Migrant experience, Patriarchy, Romance.
Helen Eddy