The burpee bears by Joe Wicks and Vivian French. Illus. by Paul Howard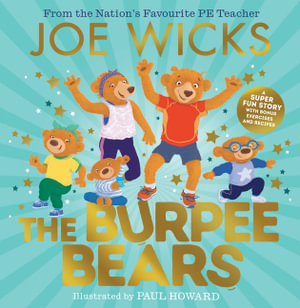 Along with author Vivian French, fitness coach Joe Wicks has written his first children's book in a new series, The Burpee Bears. This brightly illustrated and energetic picture book is about a busy family of bears who share their everyday life. The very active Daddy Bear is awake first and encourages his three young bear cubs to get up and ready for the day. Young readers will identify with each of the diverse personalities of the three bear cubs who want different things for breakfast or do their own special activities and take ages to get ready to go out. Daddy Bear is full of encouragement to get moving and go on a big adventure. The family has a fun day outdoors, despite the changing weather, and have a family meal under the stars. As an added bonus for readers, the recipes for the healthy meals are included at the end of the book as well as warm up and wind down exercise activities.
Joe Wicks may be unfamiliar to many Australian readers but is known to millions of British fans as 'the Body Coach'. Given the title, 'the nation's PE teacher' during the 2020 lockdown, he delivered online fitness sessions to children and adults every day. He was awarded an MBE in October 2020 for this work during the global pandemic.
Themes: Wellbeing, Family, Exercise, Adventure, Recipes.
Kathryn Beilby