The biggest thing of all by Kathryn Thurman and Romina Galotta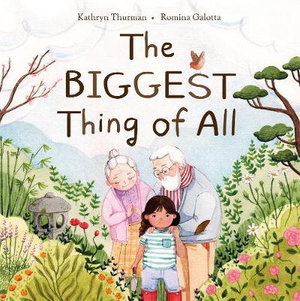 The biggest thing of all is an important story for all children, particularly those who have had experience with the death of a loved one. The book tells the story of Lily, her parents and her grandparents. They live all together and tend to the beautiful garden during the dry seasons. Grandma unfortunately becomes ill and eventually passes away, leaving Lily feeling lost and sad. When the snow clears, she sees a way to understand her feelings and celebrate grandma.
The main message used in this story is the everything is part of something bigger. The talk about one bee being part of a hive, one bird being part of a flock, and eventually one Grandma being part of their family. Lily uses this analogy to help guide her grief journey and come to an eventual place of acceptance within the loving embrace of her family.
The illustrations also help assist the message of the story, through facial expressions, images of the garden through the seasons and of Grandma's illness progression. The illustrations are watercolour which I find to be a media that suits an emotional topic well.
This story would be so helpful for younger children who are trying to navigate their grief, and for their family who are not sure how to help their children or where to start the conversation. Upside Down Books are committed to creating resources to help children navigate and understand emotionally challenging situations. They aim to provide stories and characters that children can identify with, enabling them to find a safe space for the processing of their emotions.
This is a book that I will definitely keep in my library and ensure staff are aware of its themes and whereabouts on the shelf. It is so important for children to have relevant reading materials for complex emotions as it can be difficult to have discussions when in the emotion is so raw.
Themes: Grief, Family, Love, Death.
Lauren Fountain