The Beatryce Prophecy by Kate DiCamillo. Illus. by Sophie Blackall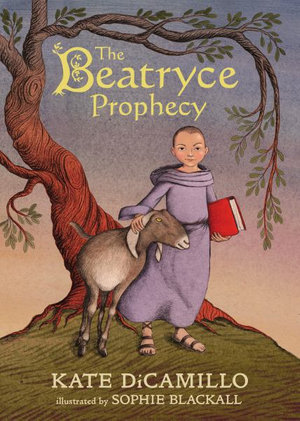 Answelica the goat's antics immediately draw you into this quirky and charming tale set in medieval times. Together with Brother Edik, the earnest monk with the wild wandering eye, the two help nurse a young girl called Beatryce back to health. We understand that Beatryce has had terrible things happen to her and she is repressing these memories. She also dreams and tells amazing stories, which are quite significant elements in the plot. Most importantly Beatryce has the unusual ability to read and write, a thing no girl should do. The other monks from the Order of the Chronicles of Sorrowing believe she is a demon girl and send her away to scribe the confessions of a soldier. She must be disguised as a boy and is guided by a boy called Jack Dory. The story becomes a quest to find the truth and it is evident Beatryce's life is in danger due to a prophecy about a girl who will unseat the current king.
Kate DiCamillo is a Newberry Medalist writer who creates unique stories with just the right amount of description, diverse settings, and strong endearing characters. There are many scary incidents, and the characters must be brave and face their fears. All except the fearless Answelica! This goat is a great comic animal character who brings light relief but also devotion and love. The spoken language between the characters keeps the story moving quickly. Along with bravery there is a clear theme of the importance of reading and writing for girls and everyone. Those in power manipulate access to reading and writing in order to maintain their power. Sophie Blackall's beautiful black and white illustrations manage to create the medieval milieu really well, as do the illuminated letters at the beginning of each chapter. Teacher's notes are available.
Themes: Bravery, Love, Equality.
Jo Marshall