The Agathas by Kathleen Glasgow & Liz Lawson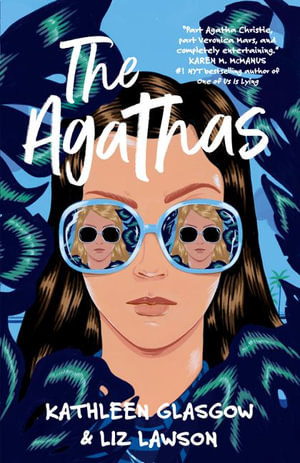 Fans of Karen McManus and Holly Jackson will be thrilled to find another mystery to enjoy. Set in the upmarket seaside town of Castle Cove, secrets seem to abound, not least the disappearance of Alice Ogilvie for five days, just as her hero Agatha Christie had once disappeared. Like Agatha Christie she is not saying where she has been. Then her ex-best friend Brooke Donovan disappears after an argument with Steve who was once Alice's boyfriend. Alice believes that something has happened to Brooke and when Steve is accused of murdering her, she is not convinced that he is the culprit. Meanwhile Iris, who is her tutor, listens to Alice's arguments, and reads some of her Agatha Christie mysteries. Together they start trying to unravel the events of the night that Brooke disappeared.
This was a fast-paced mystery that was very hard to put down. It was written from the point of view of the two main characters, Alice and Iris, in alternating chapters, giving the reader an insight into the feelings and motivations of the pair as well as the minor characters in the book. Alice is rich but is virtually ignored by her parents, while Iris is struggling with the Thing, a violent man in her and her mother's lives. Both keep secrets from each other, which hinder the path of friendship between the two, but their curiosity and determination to find Brooke's killer keeps the two working together.
A highlight of the story are quotes from Agatha Christie's books at the beginning of each chapter. These are sure to tempt readers to pick up her books.
I finished this book in a couple of sittings as the twists and turns of the mystery were compelling, with many red herrings slipped in to keep the murderer's identity a secret. And a hint in the Epilogue that there may be another book featuring The Agathas gives mystery fans something to look forward to.
Themes: Murder, Agatha Christie, Friendship, Domestic violence, Disfunctional families.
Pat Pledger