Ten little yoga frogs by Hilary Robinson and Mandy Stanley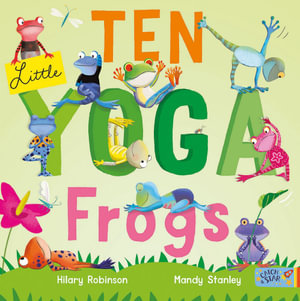 Yoga is gaining increasing traction with the under five crowd so little movers will love this story that counts up from one to ten as one little frog is joined by nine friends in some kid-friendly yoga. This is similar to Mike Brownlow's Ten Little... series, except that this counts up rather than down. Bright, vibrant illustrations will capture and hold the attention of young listeners, who may even like to try out the poses themselves. The names of the poses and a silhouette of each are helpfully included on the corner of each page. Some pose inclusions are tree, lotus, garland and cow face. The last page also shows and names each pose. The text itself is simple and rhythmic: "Three yoga frogs stretching out for more, Noor joined in and then there were . . ." As with all classic counting books like this, children will enjoy shouting out the next number and large, colourful numerals in the top corner will aid with visual recognition. No doubt, they will also love perusing the fun illustrations which show the frogs in various peaceful places in the great outdoors: on lilypads, on yoga mats on the beach and in the vegetable garden, as well as being able to replicate the moves themselves. This will be a perfect introduction to yoga for beginners or a fun interactive book for those who already have a few poses in their arsenal.
Themes: Yoga, Counting Book, Rhyming Book.
Nicole Nelson