Ten Minutes to Bed : Little Unicorn's Christmas by Rhiannon Fielding and Chris Chatterton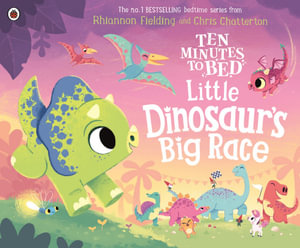 A Christmas-themed, follow-up bedtime story to the popular Ten Minutes to Bed, Little Unicorn, this Christmas sequel is the perfect combination of Fielding's playful poetry and Chatterton's glittering, detailed artwork. It's Christmas Eve in the Land of Nod, and our magical protagonist, with huge eyes the size of her starry rump, Twinkle, is procrastinating over bedtime, much to her weary father's chagrin. Then, with nine minutes until bedtime, who should appear in need of help but Father Christmas and eight reindeer. Their red-nosed leader ("... can you guess who?") has reindeer flu (a playful little "red-nose" joke for attentive readers). With only five minutes to visit twenty-two countries, Twinkle, with her unicorn glitter, knows just "what to do"!
Even the youngest of audiences will be captivated (based on a single case study of one nine-month-old and one six-month-old!). Not guaranteed to send a child off to sleep as the book may be TOO attractive, but dreams that follow will certainly be sweet and full of Christmas cheer! The perfect addition to any child's Christmas tradition, to be enjoyed by the whole family as it is EXTRA-wonderful when read aloud, as with all poetry, and the countdown to bedtime helps parents to count down to real bedtime, as well as being educational (counting backwards, reminiscent of the old classic nursery rhyme, "Ten Little Ducks"!). As a bonus, the inside covers contain detailed maps of "The Land of Nod" during the day and night and, there are so many details in Chatterton's illustrations, the book can be read again and again from any page and still new things are waiting to be discovered by attentive, little eagle-eyes! The two centre pages also cleverly open to show Father Christmas and his sleigh, led by none other than Twinkle herself! Can anyone say, "most-worn-out pages of all" with such joy?!?
Genre: Young readers' fantasy adventure, poetry. Age 3+ but illustrations and phrase rhythm are highly attractive to younger "readers".
Themes: Christmas, Magic, Unicorns, Problem-solving, Adventure, Bedtime.
Amelie Bottrill