Still alive by Safdar Ahmed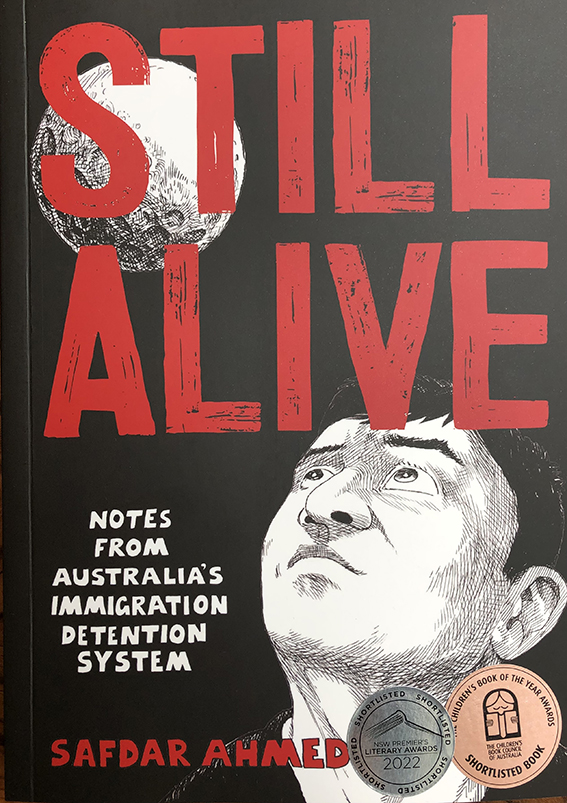 Subtitled 'Notes from Australia's immigration detention system', Ahmed's graphic novel is a dramatic and confronting expose of life in the Villawood Immigration detention centre. It began as a Walkley-winning online web-comic and has now been adapted as a print publication, shortlisted for the Eve Pownall Award in the Children's Book Council Awards 2022, and very worthy winner of the Book of the Year and Multicultural NSW Award in the recent NSW Premier's Literary Awards 2022.
Ahmad's book is a mix of autobiography and journalism, beginning with the author's visit to Villawood in 2011, and his decision to start an art project with the detainees. Gradually he comes to know Haider (a pseudonym) and his escape from the Taliban in Afghanistan and his journey to Indonesia then to Australia by boat. Other refugees also tell their stories. The words are brief but the images are powerful and devastating. Ahmed's artwork vividly captures the horror of their experiences and shows how the prison environment further compounds fear and trauma.
The book is dedicated to Ahmad Ali Jafari, the gentle 26 year old Hazara man who became the 14th person to die in Australia's immigration detention system. His pleas for help while suffering a heart problem were mocked by the guards, and medical attention arrived too late to save him.
Interwoven with the personal stories of refugees is documentation of the ongoing political commentary about 'boat people' and mandatory detention. There was the story of 'throwing children overboard' a 'deliberate deception motivated by political expediency' on the part of the government. 'Temporary protection visas' are designed to block chances of gaining permanent protection. Children born to refugees in detention are 'transitory persons' and 'unauthorised maritime arrivals'. The 'Pacific solution' is modelled after US prison base Guantanamo Bay. 'Australia's offshore camps are a legal black site for ensuring that asylum seekers have no access to judicial review under Australian law'.
Ahmed's black and white artwork is outstanding; one circular image recalls 19th century artist Ford Maddox Brown's painting 'The Last of England' of migrants seeking better opportunities. Another drawing of an exhausted man on the deck of a boat recalls Max Dupain's image of the Sunbaker. Many drawings evoke German expressionist woodcuts. And then again there are the images evoking the horror genre, the heavy metal scene and teenage comics. It is an incredible volume, combining art and text, drawing attention to the cruelty perpetuated against refugees, and raising ongoing issues of justice and humanity. It's a book suitable for mature teenagers and adults alike.
Themes: Graphic novel, Refugees, Detention, Trauma.
Helen Eddy