Sophia the show pony by Kate Waterhouse. Illus. by Sally Spratt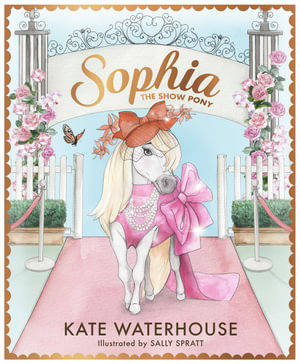 Kate Waterhouse from the famous horse racing family, has written a gorgeous rhyming book about a pony who follows her dream. Sophia is a show pony, beautifully adorned in all the finest fashion money can buy. There are hats and bags galore, designer dresses and coats, magnificent jewellery but Sophia secretly yearns for the freedom to race in the hills. She makes a bold decision to follow her dream and asks for guidance from her friends, Grace and Frederick. They gently advise that racing is not for her, and she reluctantly decides to give up on her longed-for dream and make the most of her life as a fashionista. At the premier racing event of the season, the Giddy Up Cup, Sophia is in contention to win the best dressed cup until the wind changes everything. Will Sophia have the chance to follow her dream and run her own race?
The detailed water colour illustrations by Sally Spratt are simply quite stunning. The inclusion of so many cleverly drawn animals and other items on each page will engage younger readers. This lovely book would make the perfect gift for children who love ponies or fashion. A great tie-in read when Australia's major racing event takes place on the first Tuesday in November.
Themes: Ponies, Fashion, Rhyming, Horse Racing, Following your dream, Animals.
Kathryn Beilby