Some desperate glory by Emily Tesh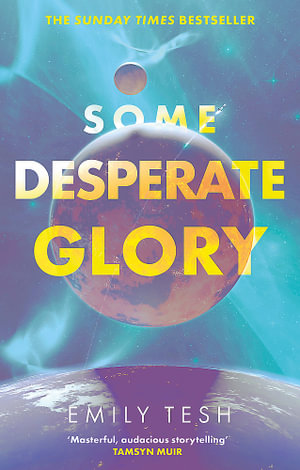 In Some desperate glory, Emily Tesh, the author of the award-winning Silver in the wood (World Fantasy Award for Novella, 2020), moves into space with a thought provoking and challenging look at life on the Gaea Station. Earth has been destroyed by the Majoda and the inhabitants of the Station have vowed to avenge the loss of their homeland. Kyr is a young woman, a strong and skilled warrior who expects to fight for her ideals. Instead, she is assigned to the Nursery to bear sons and her brother Magnus is sent off to certain death. She is determined to avenge the death of her planet, rescue Magnus and face the Wisdom, an all-seeing weapon used by the Majoda. She seeks out Avi, a talented friend of her brother, who understands the station's operations, and together with an alien prisoner she escapes from everything that she has known.
Initially Kyr is not very likeable; her crew mates believe she is a bully and she is fixated on making them the best group on the ship. However, as she faces danger and explores a world outside of the space station, she grows in understanding and empathy, and begins to question everything that she has been taught. The adventures she faces are exciting and it is easy to become involved in her quest and to relate to the people around her.
Life aboard Gaea Station is brutal and those in command are lacking in compassion and are abusive, depriving the young of food and encouraging unhealthy competition.Tesh does not flinch from describing scenes aboard the station and themes including fascism, racism and abuse underpin the story. Sources she includes in her Acknowledgements are Fascists, Spartans and Scientology.
The tense action, the interesting science of time slips and AI all make for an engaging space opera, while the underlying themes add a level of complexity that many readers will find engrossing.
Themes: Space opera, Racism, Coming of age, Abuse, Revenge.
Pat Pledger