Shu Lin's grandpa by Matt Goodfellow and Yu Rong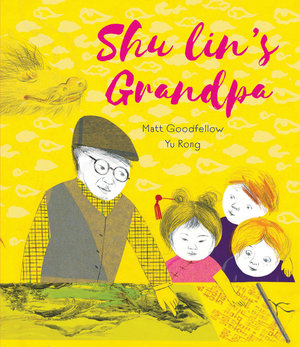 Shu Lin arrives at her new school and she looks different, does not speak English very well and eats different food at lunchtime. This story is told from the point of view of one of the children in the class and clearly shows how not knowing about someone's culture can make it difficult for some children to accept a new arrival who is vastly different from them.
One day the teacher arranges for Shu Lin's Grandpa to come into her class to show them his traditional Chinese paintings. He doesn't speak but just shows his wonderful paintings. This event becomes the key to unlock the empathy and understanding in the other children as Shu Lin eagerly helps them to master this special artform.
Inside the book is a double gatefold spread revealing a magnificent Chinese painting which creates the opportunity for exploration of this wonderful style of art. This highly acclaimed Chinese-British illustrator, who studied under Quentin Blake, has used a mixture of pencil, paper cut and coloured pencil to bring the story to us. She shows us the wide variety of cultures across this school through her illustrations which could provide a discussion starter in classes who read it.
Themes: Friendship, Painting-Chinese, Cultural awareness, Empathy.
Gabrielle Anderson