Show us where you live, Humpback by Beryl Young. Illus. by Sakika Kikuchi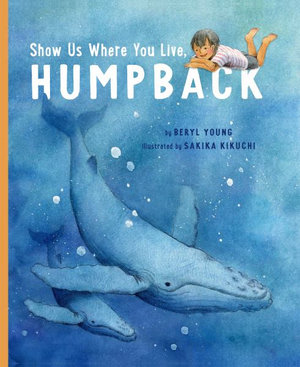 Vast expanses of different shades of blue urged me to open this book detailing the life of a humpback whale and her calf as they trawl the ocean. The calf hugs close to its mother, sheltering under her flipper, the mother alert to any possibility of danger. As the pair glides through the water looking for food, they swim and dive together, splash, breach the surface and sleep, their behaviour paralleling that of a mother and child on land.
The bond is warm and loving, reflecting that of the human child and her mother, holding hands as they run along the beach, play with the water, eat cake and hug each other close.
Each page shows a different example of the bond between mother and child. A human mother and child stand hand in hand on the hilltop overlooking a sheltered bay where the whale and her calf live while the calf is newborn. The calf hugs close to mum as she shelters the calf with her flippers, the animal as big as a school bus. The calf drinks milk from mum, growing bigger and stronger every day, just as the child is growing taller to reach the tree where her hat has become lodged. The whale and her calf play in the water splashing and beating, hitting the water with loud beats of their flippers. The child too plays in the water, splashing and the whale and her calf blow water from their blowholes, sending a plume of bubbling water into the sky, just as the child blows bubbles. The whale sings and the calf sleeps close under her flipper. And the mother and child snuggle together in bed.
Each new piece of information about the whale and her calf are duplicated by the mother and her child, showing the bond between mothers and their offspring that are replicated across the whole animal world.
The text gives snippets of information about the Humpback whale within the context of a story, adding new words to the vocabulary of the reader, reiterating the correct terms to use when talking about whales. Young children will assimilate these new words with ease.
Two pages of information support the story at the end of the book.
A beautiful offering, stunningly illustrated, presenting non fiction to children in an evocative way.
Themes: Whales, Ocean, Mother and child, Parenthood.
Fran Knight