She is a haunting by Trang Thanh Tran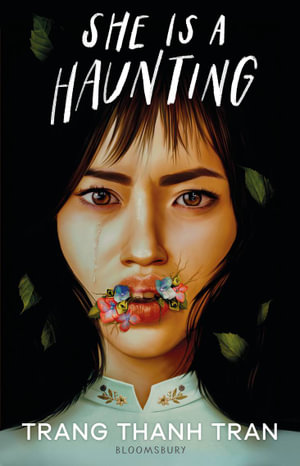 Typical of many Vietnamese refugee families who settled in the America, the Nguyen family worked hard to build a better life. For Jade that means her mother has had to work particularly hard to provide for the three children after their father returned to Vietnam and left them without support. When he proposes to pay for Jade's college fees if she comes to Vietnam to work on marketing a French colonial B&B he has been restoring, she feels she can't refuse. Her mother and brother stay with family while Jade and her little sister Lily stay with their father in Da Lat. Nhá Hoa, or Flower House is appropriately named, a grand house surrounded by vegetation and oppressively hot and humid. In spite of all the restoration work it smells of damp, food rots easily and there are insects everywhere. Jade starts to have sleep paralysis while haunted by the oppressive house and the ghost of a beautiful bride who warns her not to eat. Assisting Jade in creating web marketing for the house is Florence, her dad's business partner's niece. Jade is immediately attracted to Florence and they become close, working together to figure out the house's secrets and extricate them from the horrors it has in store. Jade describes herself as a bisexual, stubborn overachiever who suffers from anxiety but she has many issues, uncertain of her sexuality having betrayed her best friend, she is struggling with her identity, Vietnamese but unable to speak the language, a refugee from a colonized, war-torn country she knows little about, responsible for her little sister and wary of her father. Add to this cultural displacement, generational trauma, racism, colonialism, parasitism, ghosts and a haunted house and the story becomes a little dense and overwhelming. Then there are the multiple plots, the house's story, uncovering past deaths and atrocities, the greedy developer couple, the family dynamics, the haunting and fake haunting and the parasitism. It really needs a series of books to tease out the best of this writing, by the end of the book I felt bogged down.
This could be an important book for young adults struggling with similar identity issues, couching it in a horror story might make it more appealing and lovers of gothic horror will find much to enjoy.
Themes: Identity, Relationships, Supernatural, Horror, Family.
Sue Speck