Where's Wally? Santa Spotlight Search by Martin Handford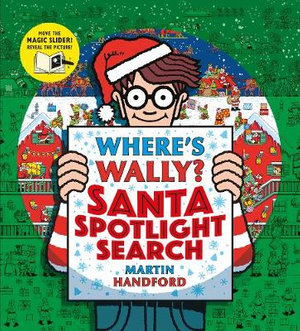 A magic 'torch,' like a wand that is really a paper spotlight searcher, illuminates the festive season over six scenes abuzz with Santas, elves, people in holiday activities.  Wally's friends are sure to delight his young fans.
Simple searching games, including a checklist, invite the reader to explore the themes related to Christmas – such as meeting Santa, shopping, a festive 'bake off', Santa's workshop and Christmas Eve.  Children will find searching both engaging and amusing.
Extra wands are available to print online – no batteries required.
Themes: Santa Claus.
Cate Telfer