Pow Pow Pig on the high seas by Anh Do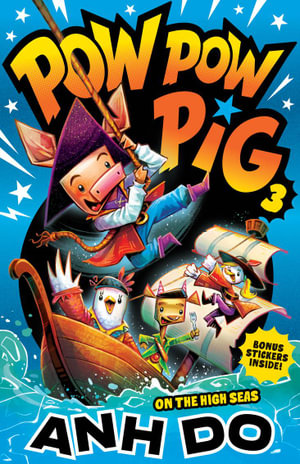 Pow Pow Pig and his Z Team consisting of Pow Pow, Danielle Duck, Chelsea Chicken and Barry the Goat are back in the third book in the humorous Pow Pow Pig series. This time they find themselves time travelling back to 1630 and bobbing around on the high seas dressed in pirate attire. They are rescued by a super friendly circus troupe of performing animals who travel the world presenting their very entertaining show. The Z Team sleep below deck that night and wake to find a ship bearing down on them. On board are The Purring Pirates who are the nastiest cats ever with lots of tricks up their sleeves including shooting hooks out of canons and hurling stinky flaming pots onto the deck. The cats jump on board and demand the treasure. The Z Team show their amazing fighting skills to get rid of the cats and the ship is able to sail away. But they are not safe yet, so the Z Team learn how to sail a ship and they escape their pursuers. However, they are now lost, the sail is torn, the ship is taking in water and one of the circus troupe is not what they appear to be. There is betrayal and the animals end up being held captive by The Purring Pirates. The captured crew are turned into slaves and must build a giant statue of a fish tail. How will they escape these evil cats? Will the Z Team come up with a daring plan?
The abundance of great illustrations on each page by Peter Cheong combined with generously spaced changing text in size and boldness, will continue to make this series appealing to a range of readers from newly independent to those who enjoy visual images.
Themes: Adventure, Humour, Animals, Time Travel, Sea, Pirates, Treasure.
Kathryn Beilby