Where's George's dinosaur: A Lift The Flap Book by Peppa Pig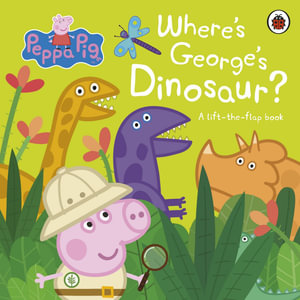 George loves dinosaurs and little children who also love dinosaurs will happily read along as George, Peppa Pig and the family all try to find George's missing dinosaur toy. This engaging book has enormous appeal, not only because of its familiar characters from the television show, but because of the bright foil cover, the lift the flaps and the hard-wearing thick board pages.
When George cannot find Mr Dinosaur anywhere, everyone goes to look for him. They look behind the flap in the den, but it is only a helmet, then Mummy Pig asks where they have been that day. They all troop off to the Zoo, the train, and the castle, lifting flaps on the way. But Mr Dinosaur is nowhere to be found. George is distraught and starts to cry but when it is time for bed, Mummy Pig pulls back the covers and there he is!
Children and adults will recognise the familiarity of losing a beloved toy and how upsetting it can be. Toddlers will be reassured that lost toys can be found and will feel happy that George finally has his dinosaur, helped by a loving family and friends along the way.
They will love spotting the tiny details in the pictures that look like dinosaurs and then seeing what is revealed behind the flaps and roaring out "Dine-saw. Grrr!" with George as they search. The bright colours of the illustrations and the familiar places shown in the illustrations are also very appealing.
This is another book in the Peppa Pig series that would happily become a part of a toddler's little library.
Themes: Board book, Dinosaurs.
Pat Pledger